At the last time of asking, Jamaican fans felt they had a strong case in 2021 to finally win the CONCACAF Gold Cup. Two final appearances and closely contested semi final defeats in recent times, coupled with a second or third string USA squad and a seemingly impotent Mexican team, colluded to create the illusion of a chance. Shouts of "It a fawud a Yaad", borrowed from England's "it's coming home", shared similar fates. Just like the Three Lions, the Reggae Boyz duly made the trip back home, but had nothing to show for it. Fast forward two years; a new head coach and resurgent positivity has Jamaica dreaming again that their team will indeed take the trophy back home after their overseas trip. And what a trip it will be – indeed it will be the longest trip any team of this year's competition will have to make.
Jamaica is only guaranteed three games in the regional tournament; they face USA on June 24, Nicaragua on June 28, before finishing up Group A action four days later against a team yet to be decided. Though we wait for the winners for some Preliminary games set for mid-June, we already know what the schedule is for all the teams to be involved.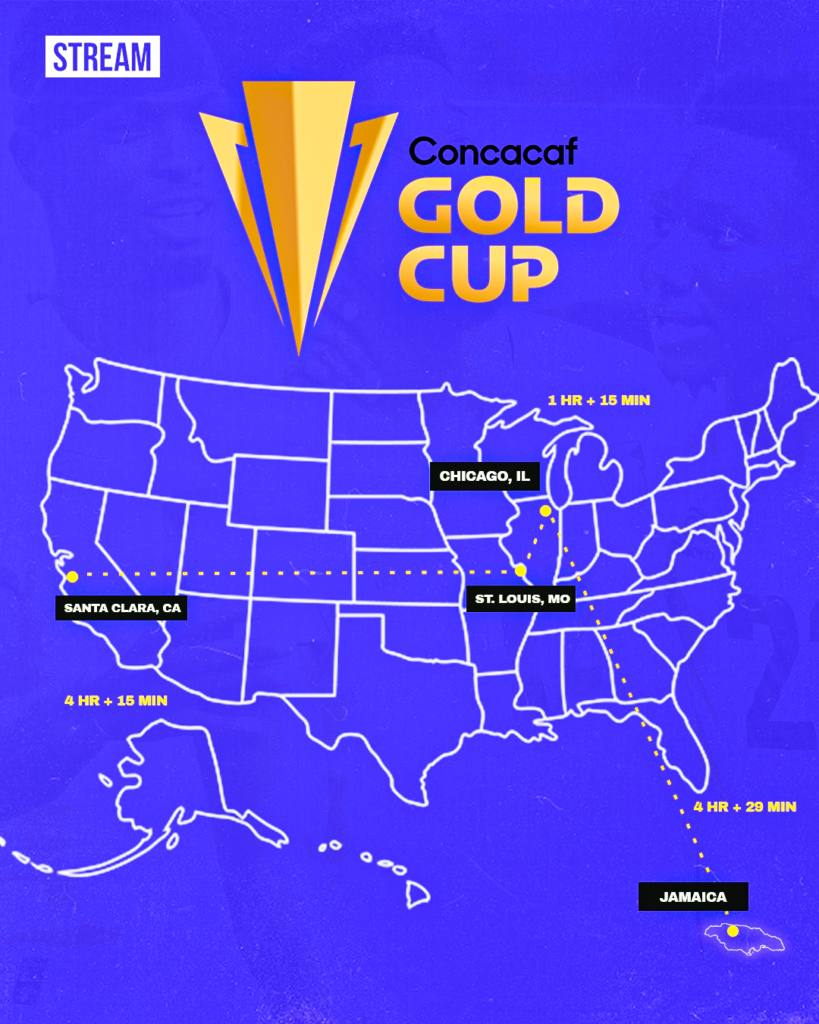 Jamaica's opening match against hosts USA takes place at Soldier Field in The Windy City of Chicago, before heading off 297 miles down the road to City Park in St. Louis. They then close out the group in style – Californian style – as the Reggae Boyz fly another 2088 miles to play in the Levi Stadium in Santa Clara. Not counting the initial trip to get to Chicago, that's already over 2300 miles in a matter of days.
Jamaica may justifiably consider themselves dark horses with the favourites being USA and Mexico while the outside contenders are Canada and the 2022 World Cups hosts Qatar. When comparing the distances that those four have to travel, it makes for interesting reading.
USA plays in the same two stadiums as Jamaica, but they don't make the cross-country journey for their final group game. Instead they hop over to Charlotte, a mere 716 miles away, to amass just over a 1000 miles in travel during the group stage. The other hosts, Canada, have a similarly favourable itinerary. They open the competition on home turf at BMO Field in Toronto, but then embark on a one-time jaunt down to Houston to play their second and third group game. That's a distance of 1527 miles. Meanwhile, both Qatar and Mexico have identical schedules that rack up between 1900 and 2000 miles throughout their group action. That's close to, but still roughly 300 miles short of, Jamaica's group stage expedition.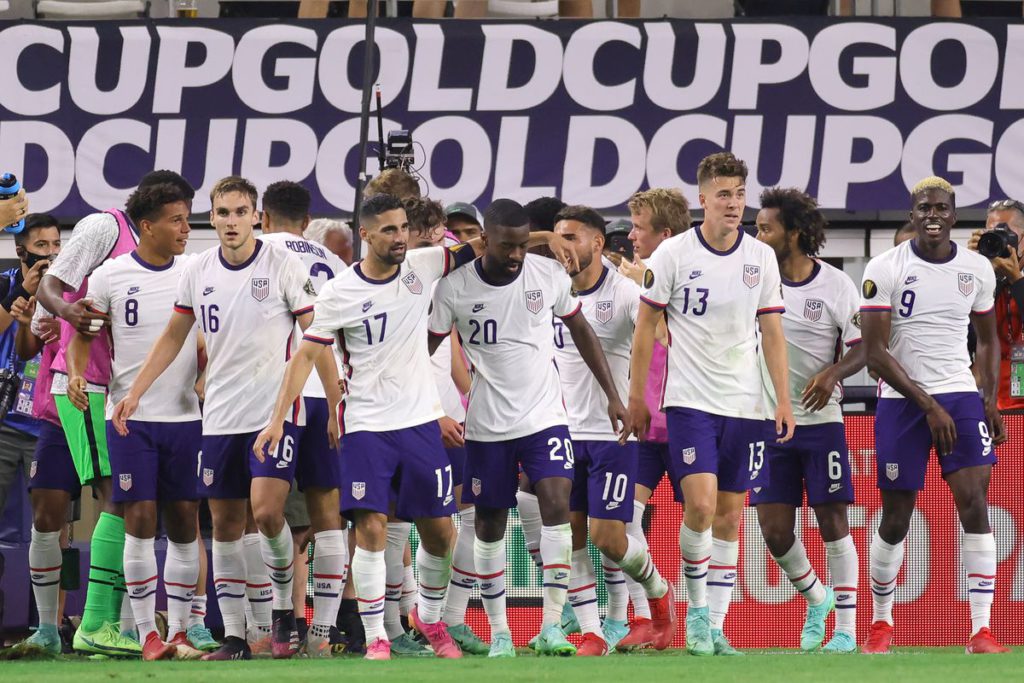 At this point it's worth noting that the distances quoted throughout this article are approximated using Google Maps' shortest and fastest driving route as this lists the miles covered. It is safe to assume that flying these distances rather than driving them would be considerably less taxing, but no less noteworthy as the flights still average a travel time of 3.5 hours. Hours of sitting increases risk of blood pooling in the lower limbs and extremities – not ideal for the sport of FOOT-ball. This would necessitate the use of compression garments to help with blood circulation which feeds oxygen to the muscles; which adds an additional step the recovery process for the team. Not to mention the bobbing weaving in and out of the various time zones that continental USA crosses. 
A consideration for teams when travelling long distances, especially when crossing time zones, is to "pre-acclimatize" to their next destination. In layman's terms that's just syncing up your schedule (more specifically sleep schedule) with the active hours of your next destination. That shouldn't pose a huge challenge in the US given the time variance of just 3 hours. But with a quick turnaround after each game it's worth considering when to fly. In the group stage there's a game every four days, which drops to every three days after that. It'll be a headache for Coach Grimmy and his staff to figure out, but expect it to have some bearing on individual (if not the whole team's) performance.
Let's say the Reggae Boyz overcome this gruelling timetable and make it into the knockout phases; what comes next for Grimmy's charges?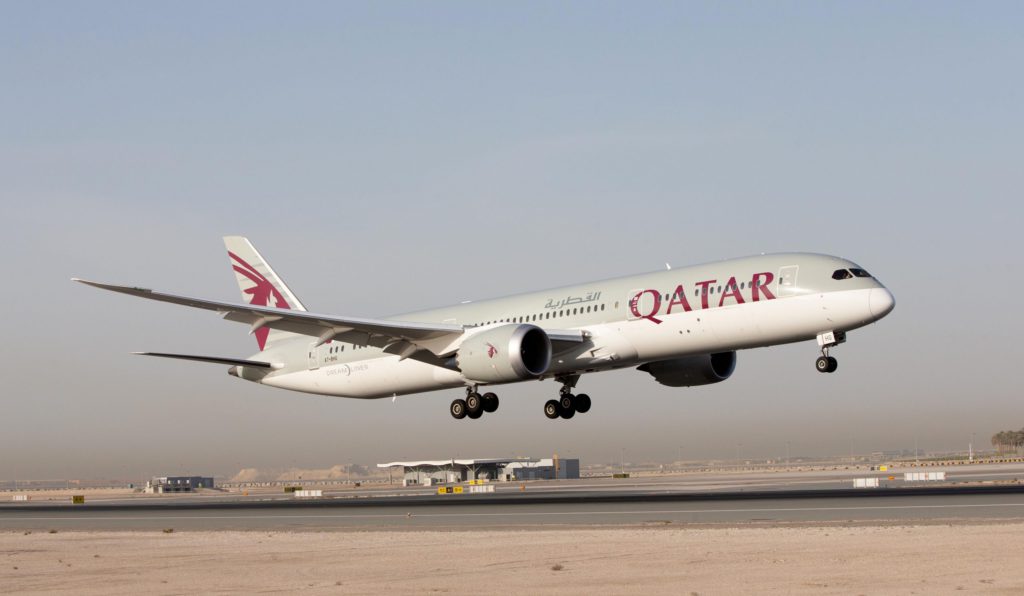 Well, Jamaica's jet-setting lifestyle is set to continue into the quarterfinals and beyond, should they get there. With Qatar Airways signed on as the official airline for the tournament; the Jamaican contingent would be well on their way to becoming naturalised citizens of the Gulf state by the end of July. Indeed no team would travel more miles than the Reggae Boyz should they make it all the way to the final in Inglewood, California. Even with the location of the semifinal still undecided, Jamaica can register upwards of 7,000 miles in the log book. None of the likely candidates even greatly exceed 5,000 miles as Group B teams Mexico and Qatar have identical tallies just under 5,200 miles. The USA team doesn't even crack the 4,000 mile mark with their favourable flight plans – and potentially even more favourable run to the final.
For all Jamaica's troubles with travel, that says nothing of the fact that the Boyz play USA in the group, most likely Canada in the Quarters, probably Mexico or even Qatar in the Semis before (in all likelihood) meeting USA again in the final. Meanwhile, USA would likely face whichever of Mexico or Qatar that Jamaica doesn't play. 
None of this should be taken as an excuse or a preloaded 'get out of jail free' card for the Reggae Boyz. This is a team with great potential, venerated stars and a serious head coach in charge of the squad being backed by an upbeat nation and eager sponsors. This is a Reggae Boyz team that can and should compete. Whether or not "It a fawud a Yaad" remains to be seen, but one thing's for sure, it won't be an easy road for Jamaica to the final of the 2023 Gold Cup.